I came across the work of the artist Petros Vrellis recently and was fascinated how a technique we use in CT image reconstruction is being used to create art.
The artist weaves a continuous line of thead in straight lines between nails around the periphery of an aluminium frame to build up an image. The more threads between the pegs the denser the line.
The technique is called threading or weaving and is similar to how back projection is used in creating CT images.
The clever bods out there have used his algorithm to enable us to reconstruct any picture. (I suspect the resultant image may benefit from a reconstruction Kernel as used in CT to reduce noise and sharpen the edges - but this art not science!)
If you would like to have a play you can upload an image and try altering the number of nails and threads used as well as the thread thickness etc.
Here is one I made earlier using my profile photo from this forum.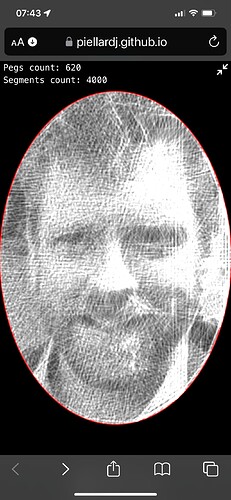 Try it for yourself here
You can watch Petros Vrellis in action here https://vimeo.com/175653201